Invest in your Future.
Creating Future SFI Team Leaders
How to Grow Your List and Income in 2017?

Instead of flicking here there and every where.
Before you know it you are spending hundreds of dollars Monthly.
Thousands Yearly with no results.
Concentrate on teaming SFI with GDI and Traffic Wave..
Click the banner above!  View my badges all the proof you need for on line success.
Yes I generate a full time income online earning on average between $50 – $100 daily with participating with all the sites I recommend.
Your Goal for the year. START AT SFI….
https://dollarwiseblog.com/sfi2017start/
https://dollarwiseblog.com/sfinewbiessetup/
Use commissions to lock into GDI and Traffic Wave.
YOUR Monthly investment with SFI  GDI and Traffic Wave.
Will give you huge returns at the end of the year.
I only promote SFI DWSEarner and Maree Designs using the down line builder programs.
My team duplicate the same system, building a huge client base at SFI.
I started in 2013, building my client base.  NOW I am a Gold Team Leader.
Best Tip! "Change your mind set"
Instead of thinking! I have earned very little this month.
THINK! What savings I have made.

I have saved thousands of dollars over the years purchasing products at Triple Clicks that have arrived on my doorstep no problems in New Zealand.
My Auto Renewal monthly subscription gives me hours of entertainment.
Play Any Eager Zebra Game to gain FREE Entry into the Daily Crown to win a share
Of Over 1700 Prizes Daily.  No Purchase necessary to enter.
Zack Jack! Zackjack is Blackjack…with a kick! Put together three simultaneous hands of 21 to win prizes, badges, and t-shirts, plus earn bonus points for speed play and assembling hands by color and more!  Unlimited free plays daily.  No purchase necessary to win.
Gold Streak! answered questions for the day to earn cool badges, bragging rights, and compete for the top spots on the Gold Streak leaderboards
Card King!  Earn Bonus Points with a long straight or one of five Sidekicks. Post a top 100 score for the day and you'll win a share of the daily Card King Zackpot. Earn instant bonus prizes and cool badges, too! Play free twice daily, and more games for as little as one TCredit.
The Best Benefit! Is the lifetime friendships I have made.
Invest your TCredits! Win T Credits to expand your business! Invest in EZ games! Invest in PB Auctions! Invest in TC Direct products.  Show Local ECA  Community Support.
"Win Win Situation" Creating quite the snow ball effect as your business grows larger day by day, month by month, year by year.
Did you know Triple Clicks gives you your own personal store. FREE.

You can share SFI and Triple Clicks with your potential customers in many different ways.
Including e-mail, social media network, blog post, and many other ways.
By purchasing your shampoo, vitamins, electronics, clothing, gifts…etc you are in turn, supporting YOUR OWN business.
NO out of pocket expenses as you will be purchasing what is already added to your house hold budget. In return you are rewarded with every purchase.
Almost all of the online opportunities are perfect.
Most CAN generate an income for you.
But there is only one little problem: All of the online opportunities require
"Team Work" "Honest Admin." "Payments" "Guide Lines To Follow"
That means it's NOT enough for you to too simply sign up, sit back and wait for the cash to roll in..
YOU need to be Introducing your promotional links to The On Line World.
All I can do is show members how I earn daily.
The next step is for every individual to set the plan into motion.
My VISION ! One Stop Shopping Location!
Is that All My SFI Team Leaders Will Duplicate the Same System.
Supporting and training their SFI down line on How to generate a real income working online.
Where we all as a Team Promote the same link at the same sites on the same day.
Introducing our family and friends to Our DWSEarner Work Station.
Teaching them how to team build a client base for SFI and Triple Clicks.
Just imagine if every member purchased T Credit Packages at SFI.
Every member would "instantly" have 10+ upgraded referrals, a huge down line, and we would
"ALL" be making some serious monthly income from Our SFI Family!
"You can have anything you want in life if you will help enough other people get what they want." ~ Zig Ziglar
"A leader's job is to look into the future and see the organization not as it is, but as it can become." –Unknown
"Outstanding leaders go out of their way to boost the self-esteem of their personnel.
If people believe in themselves it is amazing at what they can accomplish." –Sam Walton
The Internet lifestyle is a great way to generate a real income on-line daily.

Affiliate marketing is the "job" of the future that's here TODAY.
All the training you need at the one location!
"Gery Carson's Quote."  This is the best advice I ever received…
Set your goals monthly and for the first year work every day towards achieving that goal.
Did you know that you usually have to fail, multiple Times. Before you get to success?
It was true for me and probably will be true for you too. Persist until you win.
NO MATTER WHAT YOU DO, at least half of your affiliates will NOT become successful.
ALL WE CAN DO IS GIVE PEOPLE A TRACK TO RUN ON. WE CANNOT, HOWEVER, DRAG THEM ACROSS THE FINISH LINE!! They have to want it.
Profit Sharing
With all those internet sales going on at Triple Clicks wouldn't it be incredible if you could share in all of the profits? And not just from your own sales and the sales of people you've introduced to SFI, but from the over one million other SFI affiliates, too? Well, hold on to your hat, because, as an SFI affiliate, you get that too! Yes, seriously!
SFI-powered Triple Clicks –YOUR store–is one of the fastest-growing e-commerce Websites in the world. TripleClicks currently features 90,960 products—from over 110 countries worldwide—and we're adding hundreds of new products weekly. Every month, we put a whopping 40% of the Commission Volume of EVERY order at Triple Clicks into a revenue pool for our affiliates to share in!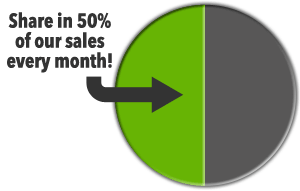 To earn shares of the pool, you need only to score a minimum of 1500 "Versa Points" monthly. What's a Versa Point? Versa Points are something we award to you for doing various actions throughout the month. The more points you score each month, the more you can earn from the pool.  To be exact, you earn one share of the pool for each Versa Point you score. It's that's simple!
2,244
Enrollments in last 24 hours, from 118 countries
38,824 total enrollments month to date
79,357 total enrollments (last 30 days)
Where we're growing today










Top 10 growth countries today Thurs 16th Feb (over last hour)
Find It Complicated To Make Money Online? Stress No More.
Learn to create your own lead system! You can then co-op that system with those you refer into SFI DWSEarner and Maree Designs for maximum leverage.
Yes, support is critical, but lead generation is the life of your business.
I have come up with a system so unique, so powerful I have trouble handling the influx of new down-line members in my organization.
if you simply do what I have been doing —  I will share our new SFI and GDI  members with those in our team that show they are duplicating and participating.
If you have ever wanted to create a successful online business, you've come to the right place.
It takes experience – which can take you years to develop… or… which can be provided to you FREE.
You could spend thousands of dollars else where, believing all the hype.
Or follow My Dollar Wise System Earner I will provide to you FREE.

Set your goals monthly and for the first year work every day towards achieving that goal. Why join Copy Cat Programs When you can join the Original Work from home program.Proven and Paying Me for years.
To often I  see Members promoting copy cat sites that have just duplicated the SFI system.
The Key is to have an Active Up Line Sponsor.  Which most of these sites LACK.
All I can do is show you the plan I follow daily.
The next step is up to each individual to put the plan into play.
This will determine your Cash And Success.
Maree Designs Training Articles
You see, as soon as you know how much you can earn supporting your team and starting your Online Dollar Wise business.
I know you'll jump in with both feet.. and that means I get to keep doing what I'm doing (supporting new launches and sharing them with your team.) for many, many years to come…
That's what you call a win win situation!

1st off.. You need an On Line Presence.
Apply for your Domain to design your SFI training website OR any Core Business you wish to expand.
Duplicating DWSEarner.ws.
Our Teams consist of referrals who are either in a members' up line or down line. This greatly increases the chance for "spillover" for all members with GDI… Paying 5 levels deep…


2nd.. You'll get credits to use inside the members area to advertise your Core affiliate programs. Start Earning DWSEarner Dollars. Which can be spent through out the DWSEarner Network.
THERE is no cost to upgrade at DWSEarner. Saving members thousands of dollars throughout the year in advertising and upgrade rewards.


3rd… Register Free to my exclusive email list to whom I give first hand knowledge of a new launch before it happens, therefore not only giving you the opportunity to get in at the ground floor but also giving you access to the best possible upgrade level within the program.


4th… I'm going to share where to build your customer list !
This script has a mailer feature that allows customers to mail promotional messages.
YOU also have access to build great Splash Page Campaigns.
Capturing email addresses to build your client base. Great commission plan also.
Our Teams consist of referrals who are either in a members' up line or down line. This greatly increases the chance for "spillover" for all Traffic Wave members…


And fifth… You get complete access to my Daily Planner – "How To Create your Sales Funnel. That Produces Results Fast.
Just imagine what it would be like to follow a program and have your own online income;
Reaching thousands of people every day and tens of thousands every month!
This is what My Dollar Wise Network offers you: The opportunity to know how to launch a successful work from home business…
Members Reviews…
https://dollarwiseblog.com/dwsearner-members-reviews/
Home success pro. Happy Team Emails I receive.

Hi Maree,
I am so happy with this refund. I got my 3rd sign up today –day 31
Archie followed my Home Success Training. Following in my footsteps.
I have been achieving 3 sign ups monthly since Oct 2016. Getting my refund.
U Tube Video For Setting Up SFI Advertising At DWSEarner.
Subscribe Free to our New U Tube Channel. Our Goal 100 Subscribers.
https://www.youtube.com/channel/UC9cIwGpdvk94TWqimcsB2jA
DWSEarner! Is Your One Stop Work Station..

It is amazing how many members expect everything for nothing with out the participation or involvement. NOTHING comes FREE.
To many members expect what took me years to design and develop  to achieve over night. REALLY?
I have invested thousands of dollars and hours setting up My Dollar Wise Network.
I have done all the donkey work for you.
It is up to each individual to decide their future with on line marketing.
Generating a real income online. Creating quite the snow ball effect with your earnings via numerous different income resources growing larger month by month year by year.
Do not be lured away by emails full of hype and false promises.
Example of an email I received
Black Friday 6000 clicks and 1500 I only have 6 left..  ONLY $300.00
I receive 100's of emails daily. I do not even bother to open them. I just send them to my spam folder at G Mail. Keeping my Inbox smooth and clean.
Face Book Groups.
I check my face book groups. Writing posts. Accepting connections etc.
https://www.facebook.com/groups/sfipays
https://www.facebook.com/groups/DWSEarnerShopping/
This is a  great post I received from my up line sponsor George at Traffic Wave..
$900.00 your first day!!
Just get three and it is free….
No recruiting No Sales….
Paid every day…
Watch your Pay pal fill up…
LIES LIES LIES
Explain to me how any business can pay you if you do not make sales??
"My thoughts for the day."
1. Do not over analyse things and do not be afraid to take a few risks.
2. Always think positive, optimistic thoughts attract positive out comes.
3. Create a realistic time frame for your goals to help motivate you into actions.
4. Do not listen to negative people.
Remember whenever some one undermines your dreams.
They are telling you their story, not yours.
5. Check all emails for News and Updates from Maree Designs..
SFI Long Term Goals!

I plan on going full-time with my SFI business by 07/01/2013.
For my overall Power Rank, my goal is to make the top 10.
For my Country Power Rank, my goal is to make the top 10.
For my Class Power Rank, my goal is to make the top 10.
I plan to become a Bronze Team Leader by 07/31/2013 Designated Diamond goal is July 2016
I plan to become a Silver Team Leader by 11/30/2013 Designated Diamond goal is July 2017
I plan to become a Gold Team Leader by 11/30/2013 Designated Diamond goal is January 2019. ( These levels were all achieved in 2013)

I plan to become a Platinum Team Leader!  Designated Diamond goal is January 2020
View some of our happy members.