SFI Gift Card Request Today!!
http://www.trafficwave.net/lcp/sfipays/sfigiftcards
Not a member with SFI!
Register FREE and Request the Triple Clicks $12.00 Gift Card TODAY.
This Gift Card will get you started at Triple Clicks. FREE.
What is it? Each Triple Clicks T Card is a standard plastic card!
redeemable for $12 in T Credits and MRP (Member Rewards Points) at Triple Clicks.
As an SFI affiliate, you may Purchase Gift Cards for just $.99 a piece and distribute them to friends, family members, and to the public.
Think of them as free samples–one of the best and most proven methods for gaining new customers in marketing history!
Each card comes with a unique, non-duplicatable Redemption Code printed on a .5 x 1.75″ label.
Each Redemption Code is permanently assigned to your SFI ID number in our database–
So no matter when the card is redeemed, you'll be the beneficiary.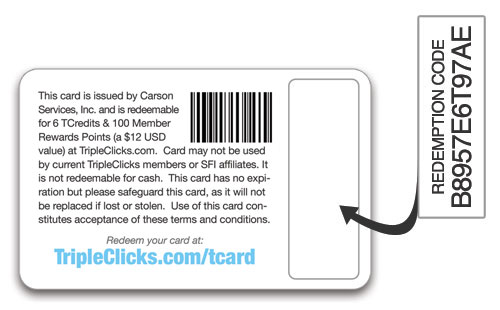 Once you've applied your labels, all you have to do is distribute the cards to your prospects. It's that easy!
The lucky recipients of your cards will go to the URL printed on the card and enter the Redemption Code.
They'll then complete a quick, simple Triple Clicks member registration.
You, of course, will be recorded as their Referrer and they'll become your PRMs (Personally Referred Triple Clicks Member).
That's it! He or she is now officially a Triple Clicks Member and the six T Credits and 100 MRP (Member Rewards Points)
That the card entitles them to are available for his/her IMMEDIATE use!
You will see throughout the Internet.
That Top Marketing Guru's charge 1000's of dollars for their Blue Prints on how to succeed.
I have designed my own advertising booster packages to explode your SFI Down line. Via SFI Gift Cards Splash links with campaigns capturing email addresses.
People join SFI with all levels of experience and expectations.
Many have an unrealistic view that you can join a program and get rich quick with no effort on their part. These people will not find success.
You have to market your business SFI to grow, and you have to have a vision and goal of what you want to achieve.
How to Purchase Gift Cards
Shipping costs got you down?
Check out the new digital Triple Clicks Gift Cards for an affordable, popular method of spreading the word about Triple Clicks and attracting new customers!
You can order these cards in groups of 30 at the store; just select the Digital Cards option in the Card Type pull down menu.  Saving yourself $13 in Postage.
https://www.tripleclicks.com/detail.php?item=173941 
Purchasing SFI Gift Cards FREE save $13 in postage.
Using your MRP rewards or T Credits.
Before adding to card. Select Card Type:
Click the v drop down box.  digital products.
Then click add to cart.
Fill in details then click continue
Select and tick the box beside the option you wish to use.
THE 1-a-DAY PLAN
Triple Clicks T Cards come in packs of 30.  Why 30?  Because 30 is a one-month supply for the following plan that we recommend you employ…
The plan is very inexpensive (less than a dollar a day), ULTRA SIMPLE, and anyone can do it:  Distribute ONE TCard a day to a good prospect.  That's it!
If you'll do this, you'll soon be generating new PRMs on a regular basis–quite possibly several a week.  Now, how many of your new PRMs–once they've experienced TripleClicks for FREE–might like to explore it even further by buying more TCredits or buying products or becoming an ECA of yours?  At this juncture, we of course cannot predict this, but we think the number (and the commissions you can earn) will be quite good.  Here's an example:
Let's assume that you're an EA (Executive Affiliate) with SFI.  Of the 30 cards you've handed out this month, let's say 10 get a good taste of the Price Benders Auctions and decide to order some more TCredits.
Keep in mind that if they're buying T Credits for bidding on Pricebenders auctions, many of your PRMs may buy multiple packs every month, or weekly, or even daily! Indeed, our current Pricebenders bidders buy hundreds of thousands of T Credits every month!
Order your SFI Gift Card splash
Leadership Support.
My Sponsor at Traffic Wave is George. He is not on my SFI Team.
This is a great email he sent me. Stream Messages for your Down line
A huge motivator is to share the ways you have WON at SFI. Have you won T-Time? You should play every day until you do, so that you can share that victory with your Genealogy and in your Stream Message. Enter the Daily Grand Every day. Play one game a day from the eager zebra games and you will be entered in the Daily Crown every day. Play the Auctions, Play Distribustar.

Submit distribution info on your gift cards at your Gift Card Tracker Report, to be entered in our daily drawing for valuable prizes.
CURRENT DAILY PRIZES:
Two persons win 20 free T Credits
Two persons win a free 30-pack of Triple Clicks Gift Cards (digital version)
Three persons win 50 free Bonus Versa Points
Three persons win 100 free Member Rewards Points
LIMITS:
Maximum of one prize per day
ELIGIBILITY:
To be eligible for each day's drawing, you must submit distribution info on at least one gift card the day before at your Girf Card Tracker Report.
Receive one entry per card submitted (one entry per day per card).
YESTERDAY'S (08/06/17) WINNERS:
Do you know what Distribustar is? It is the game for the T Card distributions. You receive one entry for every card you distribute. I distribute 30 cards a month. I do it 6 days 5 cards a day. And with 5 entries I almost always win something. As a matter of fact I have won 30 New Tcards 17 times. That is a total of 510 TCards. The cost savings for me is $504.90 plus shipping costs (when you win shipping is free).
I have 667 people buying on TripleClicks who signed up using the TCard. And you wonder how to succeed at SFI?
There are so many ways to win, but you have to play. Let your affiliates know about your winnings. This jumps starts many inactive affiliates and encourages active ones to be even more active.
Today's Stream message is three posts. Post one a day for three days in a row. You may need to modify the first one to something you have won. But other than that they can be posted as is. I add these to my Gift Card Traffic Wave Campaign I have set up.
Today's Stream Message you can Post: 
Day 1:
WHOO HOO I won the Daily Grand yesterday, 10 T Credits……. Love that email subject line: "Daily Grand Winner Notification"…. Score 10 points a day, play the daily grand every day. You do, you'll win…. Or how about, "Daily Crown Winner Notification" Or maybe it is, "Distribustar Winner Notification" Or maybe "T-Time Winner Notification" Always a chance to be a winner at SFI — Now I am going shopping, See ya later!
Day 2:
You know why you win in SFI? Because you play. Those who play a lot, win a lot. Play the Daily Grand every day. Play T-Time every hour, as often as you can. The more you play the more you win. And winning is fun!
Day 3:
You know, I was thinking. Yesterday I wrote and said those who play a lot win a lot. And that is true in many ways. Those who advertise products from Triple Clicks a lot sell a lot. Those who advertise to sponsor new people a lot, sponsor a lot. It is true. It can be you.
PRMs
What's a PRM?  A PRM is simply a person who you introduced to Triple Clicks.  They became a Triple Clicks Member…and you were the one who referred them to Triple Clicks.
So, a PRM = Personally Referred Member
Find more Information in your launch pad training lesson 39.