SFI Gift Cards!!
What is it?  Each Triple Clicks T Card is a standard plastic card!
redeemable for $12 in TCredits and MRP (Member Rewards Points) at Triple Clicks.
As an SFI affiliate, you may Purchase Gift Cards for just $.99 a piece and distribute them to friends, family members, and to the public.
Think of them as free samples–one of the best and most proven methods for gaining new customers in marketing history!
Each card comes with a unique, non-duplicatable Redemption Code printed on a .5 x 1.75″ label.
Each Redemption Code is permanently assigned to your SFI ID number in our database–
So no matter when the card is redeemed, you'll be the beneficiary.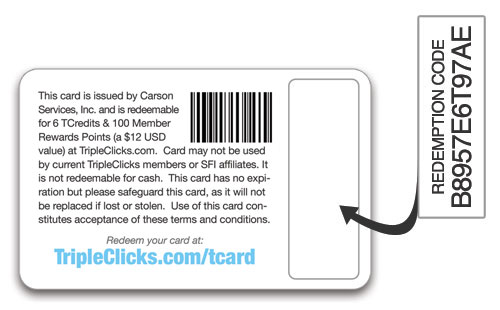 Once you've applied your labels, all you have to do is distribute the cards to your prospects.  It's that easy!
The lucky recipients of your cards will go to the URL printed on the card and enter the Redemption Code.
They'll then complete a quick, simple Triple Clicks member registration.
You, of course, will be recorded as their Referrer and they'll become your PRMs (Personally Referred Triple Clicks Member).
That's it!  He or she is now officially a Triple Clicks Member and the six T Credits and 100 MRP (Member Rewards Points)
That the card entitles them to are available for his/her IMMEDIATE use!
You will see throughout the Internet.
That Top Marketing Guru's charge 1000's of dollars for their Blue Prints on how to succeed.
I have designed my own advertising booster packages to explode your SFI Down line. Via SFI Gift Cards Splash links with campaigns capturing email addresses.

People join SFI with all levels of experience and expectations.
Many have an unrealistic view that you can join a program and get rich quick with no effort on their part.  These people will not find success.
You have to market your business SFI to grow, and you have to have a vision and goal of what you want to achieve.
How to Purchase Gift Cards
Shipping costs got you down?
Check out the new digital Triple Clicks Gift Cards for an affordable, popular method of spreading the word about Triple Clicks and attracting new customers!

You can order these cards in groups of 30 at the store; just select the Digital Cards option in the Card Type pull down menu.  Saving yourself $13 in Postage.

https://www.tripleclicks.com/detail.php?item=173941 
Purchasing SFI Gift Cards FREE save $13 in postage.
Using your MRP rewards or T Credits.
Before adding to card. Select Card Type:
Click the v drop down box.  digital products.
Then click add to cart.
Fill in details then click continue
Select and tick the box beside the option you wish to use.
Order your SFI Gift Card splash