New To SFI.  You will receive this email.
At the beginning of each month.
Each New Month. Everything winds back to O.
An alert on your homepage will remind new members that they can transfer their VP with just one click.
Check your alerts. Rate your sponsors, Set your goals 15 VP points.
For the next 7 days, SFI Give you the opportunity to transfer, with no obligation, your May points to June!
What is the downside of transferring your VP?  There is none!  By combining your May VP with your June VP, we are simply providing a way to help you get to the rank of Executive Affiliate faster.
To transfer your VP (and for information on the additional income, perks, and benefits you can receive as an Executive Affiliate), go now to:
https://www.sfimg.com/MyAccount/VPtransfer
Important Notes:
1. This is a one-time offer only.
2. The deadline to transfer your Versa Points is the 7th of each month.
Rate your sponsor and SFI.
I have high lighted in Red the lines to click to submit your ratings at the beginning of each NEW MONTH.. I start each day Clicking all Red Tabs Above Turning them Green. Top Right Daily Click and check these links.. The envelop is where you will find team messages.. The Blub when yellow, means you have an SFI message from one of your team. BOTTOM Right Click and open the chat BOX> Communicate with your team when they are on line..  THE Rocket is where you can view your launch pad training. I refresh my memory monthly going through different articles. The Eye Glass is where you can enter in the search box any questions you may have.
Every month SFI ask you to rate your sponsors and set your goals you'll also earn 15 bonus Versa Points. With doing both these actions.
Here is my example. Be sure to click the V drop down box and rate your sponsor.
Do the same rating SFI. Then check all the boxes are ticked matching my page.
Click SUBMIT. A new page will open.
June 2017 Ratings
Please confirm that these are the ratings you wish to submit or click "Cancel" to adjust your ratings. Click the Green Button SUBMIT

SPECIAL NOTE: It's also time to set your goals for July! Go now to set your goals for this month and earn 5 additional bonus Versa Points (must set goals by July 10th, to receive bonus VP)!
Click the To Do Tab. Scroll Down to where it reads MONTHLY ACTIONS. Make sure all VP are redeemed.
Find my list of stream posts here.  https://dollarwiseblog.com/sfistreams/
How are you doing on your monthly SFI goals? Be sure you collect your 5 VP for setting your goals for the month (before the 10th), along with 1 VP each day you review your Goals Tab (https://www.sfimg.com/Home/Goals)!
VIEW MORE SFI TRAINING VIDEO'S
https://dollarwiseblog.com/sfivideos
Quote of the Day
"The best time to plant a seed was 20 years ago. The second best time is now."
-Chinese Proverb
Be sure to send E Cards to all your Top Movers showing acknowledgement of their success.
SFI send Emails letting you know of Your  Badge Achievements..
Congratulations Maree on advancing to GRAND MASTER, the second highest level in Badge Quest, that only the top 200 players can attain!  You're awesome!
In addition to scoring a prestigious new Grand Master badge, you've also just earned:
* 20 T Credits
* 30 Promo Bids
* 200 VP
* 200 MRP
* 5 bonus entries in the Daily Grand
* Badge Bounty entry for this month
For your entry in the Badge Quest Bounty, just make sure you have your "lucky number" set for the drawing, which will take place during the first five days of July.  Confirm/set your number at:
https://www.sfimg.com/Home?tab=badges
SFI In It To Win It.
1…  SFI submit ratings For Sponsors & Alerts.
2…  Log in daily clicking all Red Tabs Green.
3…  Click the Rocket Icon for Training, or the eye glass to research topics.
4… Share all SFI Newsletters to your Social Media Networks. Join in Forum Discussions.
5… Invest in T Credits. Spend T Credits Winning T Credits play Games and bidding.
---
"My thoughts for the day."
1. Do not over analysis things and do not be afraid to take a few risks.
2. Always think positive, optimistic thoughts attract positive out comes.
3. Create a realistic time frame for your goals to help motivate you into actions.
4. Do not listen to negative people.
Remember whenever some one undermines your dreams.
They are telling you their story, not MINE.

The new kids on the block are Auto-Delivery and Booster Club Qualified (BCQ).  SFI is a business opportunity that requires the selling and buying from Triple Clicks or any of Our SFI Communities ECA Stores.  Personally I feel their is no out of pocket expense and I buy what is normally added to my house hold budget.
Instead of going to the Local Mall to buy presents. I avoid the rush hour and traffic, browsing what other Triple Click Members have on offer.
Any Member can earn with promoting My ECA Store.
Scroll down to the bottom left to find your link with your SFI Id Inserted.

Be sure to check the Chat Bar Bottom Right and Communicate.
Introduce your self to our Team Forum.
https://www.sfimg.com/forum/thread?id=44710
REMEMBER Daily.  Before Logging out of the Games to Click above the Purple Box and Claim FREE EXTRA ENTRY.  Then return to the home page and Claim your Free Extra Entry into the Daily Grand.

REMEMBER Daily.  Before Logging out of SFI to see if you have enough MRP Points to Buy 1 T Credit, when you reach the payment processor select USE MRP, WAIT for a box to appear to verify payment.
Click the Win It Tab and Enter the Biz Quiz Competition.
IF UNSURE OF ANSWER? Head over to the chat bar at DWSEarner.
Our Members list here the answer, brain storming about where and how to promote.
I reply to all members requests Via Emails.
Getting them to register to my SFI Training Boot Camp Series.
http://www.trafficwave.net/lcp/sfipays/sfipays
How to start your SFI Journey the right way.
Apply for your E Book License.. All members receive cash back from members purchases. NEWBIES step by step training.
https://www.fiverr.com/dwsearner/online-blue-print-with-e-books
View this page and send in a support ticket for which E Book you would like to receive.
Set your goals monthly and for the first year work every day towards achieving that goal.
"Gery Carson's Quote.
Did you know that you usually have to fail, multiple Times. Before you get to success?
It was true for me and probably will be true for you too. Persist until you win.
YES it was also TRUE for Me.

CONGRATULATIONS, Maree, on hitting three 21s and scoring a Zack jack for one of your ten Prime Games today!
Be sure to play Games Daily. Win T Credits, Investing T Credits.
For this achievement, you just earned:
* A bonus entry in tomorrow's Daily Crown
* 900 Prize Points for the Zackjack Leaderboard
* A "Zackjacker" badge (or badge upgrade)
Also, check out where you are now on the Zack jack Leader board at:
www.tripleclicks.com/games/EZ_Leaderboard.php?leaderboard=zackjack
Note: You can win an exclusive Zack jack t-shirt by being amongst the top ten Prize Points scorers each month.
Buy One T Credit With your MRP Points. Receive FREE VP Points. (Only 1. Repeat.)
Be sure to click at the right The Bid N Build Tab. In to win PSA Members.
Communications is the life line.
Weekly be sure to click the Tab Above MOVERS.
Click the name of the member to send them a message.
To view more than 10. Select from the drop down box under where it reads display.
Then click submit to view more of your top movers.
How to send an E Card. TICK THE NAME OF THE INDIVIDUAL
A Box Will open… Example I click Martine.
Click The V Drop Down Box to select which Card you wish to send.
Click on the line with the individual card  THEN CLICK GO.
The cards will appear CLICK on the Card you wish to send. A Box Will Open.
Scroll down to the bottom left when you had typed in your message.
Tick the box I agree then Click Send Message.
To View Members VP Ledger to support them with ideas.
Example Click where it reads.
Lavernes V P Ledger. Here you can view your members achievements.
How to Use the GENEALOGY TAB>
GO TO THE TO DO TAB> SCROLL DOWN TO WHERE IT READS.
CLICK the blue writing Genealogy Group Mailer.
Every Few Weeks I click the CSA Mailer Link and introduce myself to my new CSA Members.
To send a message Click where the Blue Envelope IS>
I use the Quick Filter Also. Select with clicking the Drop down V to view.
Then Click Load my Quick Filter I then Click the Blue Envelope.
HOW To Reassign Members to your Team.
Click the Box Where it says Reassign.
A New Box Will OPEN.
I will use the example of reassigning Laverne to Martine,
Tick the empty box beside Lavernes Name. ( This is the member you are reassigning.)
Where you see the words SFI ID
Enter here the id of the members you are sending this members to,
Example I would type into this box Martines SFI ID 13157971
Then CLICK WHERE IT READS Reassign Selected affiliate.
All Done.  YOU will receive an email saying complete.
REMEMBER also to Click the GREEN Hand Shake for new members.
Introducing them to the Ice Breaker.
REMEMBER Daily TO Share all SFI Newsletters to Facebook.
When you log into the Home Page at SFI you will see.
Click the blue link to go and share the News Letter Update..
A page will open scroll down to the bottom of the page.
Click the fifth Start. Then share. Click the Facebook button.
A link will open Continue.
Then do the same with twitter and google plus.
This is a great FREE daily activity you can do.
Type in your message at the far right you will see a Blue Button Post it. Click
Be sure to join our Facebook Group.
This Group is for all my team from the different advertising portholes we use.
Bitcoin is now at SFI.
How we fund our Bit Coin Wallets.
I designed http://www.abc4income.com  My on line Down line builder sales funnel generator Website.  Launched in 2016.. Teaching my SFI team via video's and word press training articles.. Our team sign up to the down line builder programs listed.. Then their team duplicate the same system.  In 2017 I turned ABC4income into a Bit Coin Community.
Maree Designs is our One Stop Shopping and Selling Zone. My business is verified with Payza.  Members withdraw their commissions to their Bit Coin Wallets. Then happily spend their bit coin at SFI.
Time For A Power-Up! At DWSEarner.
My one stop work station… If upgraded all members extend their Power Ups.
Earn Upgrades with simply surfing earning DWSEarner Cash Tokens to transfer into advertising for your SFI or Triple Clicks Promoting.
As an upgraded member, you get to choose a power-up for your membership every month! This means your upgrade will become more powerful the longer you keep it, and you can power-up the features that are the most important to you.
The following power-ups are available to you: Check them up and select.

Send article to Facebook. Scroll down to where you see.
Rate this:  I tick the 5 stars.
Share this: Click the Social media button Add your post.
SFI New Month begins. In To Win Awesume I say.
Click Post to Facebook. Return and share to +1 Google and Twitter.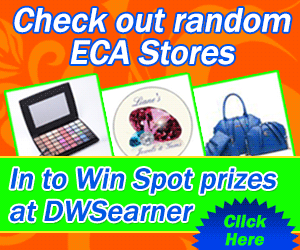 Start being paid while supporting our members.
On Line Store Ventures. Click the banner and view today.
Listing Our favorite on line store promotions AT
Our One stop shopping and selling zone.STORE OWNERS>
Email Maree.
Add photo's and store description to be added to our
Shopping Pages at ABC4Income and DWSEarner.
HOW To Do This Lock into OUR POWER WITH THREE
Teaming SFI With Maree Designs Coop, GDI, and Traffic Wave.
Sign up Via your SFI Sponsor at Maree Designs.
http://www.trafficwave.net/lcp/sfipays/mareedesigns
Log in at the left click My Down line Builder.
Send me your GDI Log in details to design your Power Of Three Page OR SFI.
At the beginning of each new month.
I log into Traffic Wave and send to over 1500 members that have registered to receive my boot camp training.  My Training article.
Starting the beginning of a new month with SFI.
 I use GDI to design all my Dollar Wise Training articles.
Great domain provider I joined in 2009.  My very first affiliate program.
Team Support is the key.
Start Daily at Maree Designs. Add your favorite Triple Click Products to sell.
The beauty is you earn from all your SFI down line purchases from any random triple click product listed.
Blast promoting for SFI and Triple Clicks at DWSEarner and ABC4Income.  Participate daily with our Surf Chat. Meet Our Team.
These are three sites I used my SFI Commissions starting in 2015 launching DWSEarner then in 2016 ABC4Income.  In 2017 I launched my One Stop Shopping Zone.

I promote my teams Triple Links Links in rotators designed at ABC4Income.
LOCK into Our Maree Designs Club. Team Building on Auto Pilot.
YOU will see the offer when you Log Into Maree Designs.
CSA Rewards Ledger
View all the CSA Rewards to Aim For Each Month. Minimum rank of EA (or higher where noted) required to qualify for CSA Rewards.  I receive New CSA Members monthly. Imagine my team growth in a years time.  Building up my CSA Team plus SFI Commissions.
Achieve or re-qualify for the rank of Executive Affiliate 2
Achieve Booster Club Qualified (BCQ) Status 10
Earn a gold-trimmed Likes badge 1
Finish the month with a gold-trimmed Daily VP Streak badge 1
Achieve or re-qualify for the rank of Bronze Team Leader 1
Achieve or re-qualify for the rank of Silver Team Leader 1
Achieve or re-qualify for the rank of Gold Team Leader 2
Achieve or re-qualify for the rank of Platinum Team Leader 2
Achieve or re-qualify for the rank of Diamond Team Leader 2
Become the E365 Champion for your class* 5
Finish the month (October 2017) with a top-3 Class Power Rank* 1
Earn a silver-trimmed Top Sponsor badge 1
Earn a gold-trimmed Top Sponsor badge 2
Earn a gold-trimmed Top Co-Sponsor badge 2
Earn a silver-trimmed Top Co-Sponsor badge 1
Finish the month with a Triple Clicks Top-100 Seller badge 5
Finish the month with a silver-trimmed Top VP badge 1
Finish the month with a gold-trimmed Top VP badge 1
Finish the month with a silver-trimmed Overall Power Rank badge 1
Finish the month with a gold-trimmed Overall Power Rank badge 1
Finish the month with a gold-trimmed Country Power Rank badge 1
Finish the month with a gold-trimmed EA Streak badge 1
Finish the month with a gold-trimmed ECA Referrals badge 1
Finish the month with the latest Leadership Challenge badge 1