Listen to the Video then LOCK IN TODAY.
https://www.tripleclicks.com/detail.php?item=235841
Personally.  I got sick of all the false hype from other advertising exchanges, I was using to try and team build SFI.. I was wasting way to much money, getting very little results.
So I decided to include with this ECA Purchase A Bonus Of One Monthly Maree Designs Co-op Share for team building SFI.  Do not delay lock in TODAY!
View My Case Study of One Of our SFI members.
https://dollarwiseblog.com/casestudies/
SFI.  Follow My Daily To Do Planner.
Have this link open in a second Browser window to follow daily.
http://www.kiwitalk.ws/DailyToDo
SFI Not a member Join FREE Here.

http://www.joinmySFIteam.com/11189449.1046
YOUR AFFILIATE WEEKLY TIP!  Seeing SFI through the eyes of your PSAs
To provide effective support to your affiliates, you must be familiar with the experience of your incoming Personally Sponsored Affiliates (PSAs)–the pages they're seeing and the information they're reading.
Therefore, we recommend you review these pages your new affiliates see when they join SFI:
1. Getting Started pages: https://www.sfimg.com/GettingStarted
2. LaunchPad Lessons: https://www.sfimg.com/LaunchPad/
3. Your SFI Gateway at: www.sfi4.com/11189449/Free
Change my SFI Id to yours.
Upon review, you'll notice the emphasis is on getting started by earning Versa Points from performing actions on the SFI To-Do List. In other words, your PSAs learn from the get-go that earning Versa Points equals earning income.
https://dollarwiseblog.com/sfiversapoints
You can help your PSAs get started right by also focusing on the "score more, earn more" aspect of the SFI program in your own welcome e-mails, team communications, and leadership incentives.
Learn more about PSAs and your role as a Sponsor:
https://www.sfimg.com/LaunchPad/Lesson?id=22
1. Tap into our profit sharing program with VersaPoints. (VP)
2. Increase your earnings by generating sales at Triple Clicks.
3. Maximize your income with Team Sales.
View the photo where you can enter questions searching for answers. Clicking the Eye Glass. Go to your Launch Pad Training and read a few articles daily..  At the bottom of the page CLICK I've Reviewed this lesson. Redeeming VP as you train.
Need a refresher?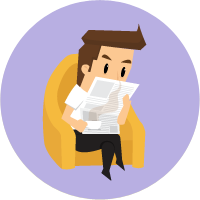 Listen to the Video's BEFORE continuing.
Tip of the Day!  Find your affiliates online!
How can you find and communicate with your team members who are currently online at the SFI Affiliate Center? Just look for the small green bubble–on your Genealogy report, on the Movers tab on your Affiliate Center homepage, on Affiliate Manager pages, and on your Upline Team Page. Just click the green bubble to initiate an online conversation with that affiliate.
SFI Quote of the Day
"The credit belongs to the man who is actually in the arena; whose face is marred by dust and sweat and blood; who strives valiantly; who errs and comes short again and again; who knows the great enthusiasms, the great devotions, and spends himself in a worthy cause; who at the best knows in the end the triumph of high achievement; and who at the worst, if he fails, at least fails while daring greatly…"
-Theodore Roosevelt
Daily Planner I use to team build
Using My Dollar Wise Network Plan Of Attack.. Building numerous different income resources and Down lines on Auto Pilot. A successful Team Leader.. SEES the big picture, setting their long term goals for the first year.  Working towards achieving them. I have invested thousands of dollars and hours setting up my Network supporting my team.
An hour per day will send money your way.
Newbies Stressed. Just follow this plan daily. Learning while earning.

 Set your goals monthly and for the first year work every day towards achieving that goal.
Alerts Tab!

Latest Announcements + Forum Threads.
Share these threads daily to Facebook Etc. Check Your SFI inbox every day and also Your email in box for all SFI updates. This is the key to a successful SFI Business.
ACHIEVING YOUR MONTHLY GOALS?
How are you doing on your monthly SFI goals? Be sure you collect your 5 VP for setting your goals each month before the 10th, along with 1 VP each day you review your Goals Tab!
MORE importantly: will you reach some (or all) of the goals you've set for this month?
If you've answered no or are not sure, take a moment right now to review your progress:
https://www.sfimg.com/Home?tab=goals
TRIPLECLICKS TIP OF THE WEEK:
Share TC products on social networks.
Get the word out about a great new product, deal, closeout, or other item at Triple Clicks.com quickly and easily. After logging into TripleClicks.com, simply click the Share & Win tab on a product's detail page; then cut and paste the resulting link on Facebook, Twitter, or e-mail…or post it wherever you want.
Your SFI Affiliate ID number is included in any referenced URLs you post, so you get credited with any subsequent sales. Referenced URLs from your referred members will also include your SFI Affiliate ID for crediting when they share via the Share & Win tab.
NOTE: By referring a friend to Triple Clicks, you'll automatically qualify for a FREE WAVE3 Membership and enjoy all the benefits that go with it.
Learn more! about Wave3:
https://www.sfimg.com/LaunchPad/Lesson?id=41
Register HERE to receive SFI News Letters.
https://news.sfimg.com
At the right where it reads. Follow SFI News via email
Join 779,290 other followers Enter your email then click Follow.
Once you have turned all the Red Tabs Green Return and click the blue button at the bottom of the page.
Badges!  Enter 5 numbers in the empty boxes then click SAVE.

https://dollarwiseblog.com/badgehuntsfi/
Remember with each activity to scroll down and Click the Blue Tab turning it GREEN.
To Do List!  I suggest once finished with your Daily To Do Tasks. To return to this page clicking all blue highlighted links to broaden your knowledge with SFI.
THERE are 12 Daily Tasks time these by 30 = 360 VP you can earn.
READ the WEEKLY and MONTHLY CHART! On how to earn MORE VP.
Tips!  VIEW SFI Tip of the Day, an Ask SC Answer of the Day, Quote of the Day, and an informative Did You Know section outlining important aspects about SFI that you'll want to keep in the forefront of your mind as you grow your business. You'll also see a Featured Marketing Aid you can use for your SFI business.
STREAM Posts! View the posts I use here.
http://www.dollarwiseblog.com/sfistreams
Like any tree, you plant the seed, but you need to nurture it for the seed to grow.
REMEMBER you can earn 3 VP points WEEKLY.

Remember with each activity to scroll down and Click the Blue Tab turning it GREEN. Check out my Genealogy Posts I share.

https://dollarwiseblog.com/sfigenealogy/
Triple Clicks! Remember Triple Clicks is YOUR store. I purchase what is already added to my Household Budget. So no out of pocket expenses, earning VP for my spending.
Unfamiliar with our ECA Program? Learn how YOU can start earning LIFETIME ECA Royalty Commissions at:
https://www.sfimg.com/LaunchPad/Lesson?id=42
Super Deals.  Need to snap them up fast as change often.

New TCD Product of the Week. I have purchased a Projector and Fitness bands.

WAVE3 member. Gain entry with every new Triple Click Member you introduce.

News from ECAs (TC E-Commerce Associates) you will see my updates here.

New Triple Clicks products added in the last 72 hours, 7 days, and 30 days

Member Listings section with links to post your items for sale at Triple Click
To collect Versa Points from this tab, click one of the links you see here.
https://dollarwiseblog.com/a-games-plan-at-triple-clicks/
ECA! Each day, SFI feature a different E-Commerce Associate (ECA) on this tab.
To collect Versa Points from this tab, review the page, then scroll down, and click the GREEN  TAB to VIEW the ECA Store.
GAMES! To participate in my Leagues. YOU need at the beginning of each new month to select and play Prime with Poker King and Zack Jack.

Buy Matches and Moves before Playing.
Click any of the blue buttons to go directly to the game of choice at Triple Clicks.
VIEW my Game Training Page Here.
https://dollarwiseblog.com/eagerzebragames/
King Master I click PASS and bottom right activate Side KICK.
You won: 100 Card King Bonus Points!
Make sure to complete daily the Gold Streak to earn badges.
I received this email in September. I was not even aware of this bonus.
Good news! A Triple Clicks member that you referred to us won a share of the CARD KING Zackpot for August 31, 2017…which makes YOU a winner, too!
The August 31, 2017 Card King ended with a final Zack pot of 977 TCredits. You received a 10% match of the portion of the Zackpot won by your referral–a total of 3 TCredits for you. These TCredits have been deposited into your TripleClicks account, and you may begin redeeming them immediately.
Price Bender!  I bid in Double MRP Auctions.
Bid & Build! Check at the right. When the Graph is BLUE.  A link will appear.

1

spins earned.  Go Spin NOW…. (CLICK)
A link will appear to click and Spin earning % towards FREE PSA members.
You have
1

spin available  CLICK the GREEN Box Spin
Start receiving emails like this.
Hi Maree,
Congrats! Thanks to the Price benders Bonus Bar, you just won a Flash Drawing for FREE T Credits!
As you know, up to six times for EVERY Price benders auction, you can win free T Credits in our Flash Drawings. To enter each drawing, simply bid at least once during the 5-minute period before the drawing (indicated by the stars on the Bonus Bar at the top of every auction).
TIP: You can increase your chances of winning by bidding more than once–because each bid during the 5-minute period gets you another entry in the drawing!
You can confirm the receipt of your newly-won TCredits at your TCredits Ledger here:
WE HAVE A WINNER!!!!
CONGRATULATIONS, dollarwise! You won Match #120568!
You outlasted 27 opponents!
You scored 28 Trivia Leader board points!
You earned 20 Member Rewards Points. !
Your Knockout Trivia Winner Badge was upgraded!
You won a bonus entry in the Daily Crown!
You've also earned a Friend Challenge link and an opportunity to win 300 MRP and more!
Hello SFI ECA, Maree Designs> My T Connect>T Credits> MRP Points.

At the top right I check my MRP Points, when they reach 126 I buy 1 T Credit
https://www.tripleclicks.com/detail.php?item=47534
Click Add To Cart> I do not save> I click Add to Cart> Check Out Now. I fill in the empty boxes with my details > Click Continue to Checkout.  I tick this box then wait for a box to open and verify purchase. TRIPLECLICKS MEMBER REWARDS POINTS
Select the product(s) you wish to apply points to:
126 MRP – 47534 T Credits – 1
I scroll down to the bottom of the page and tick
I have reviewed and agree to the Triple Clicks Terms and Conditions.

I understand that any import duties, taxes, and custom clearance fees are the buyer's responsibility.
CLICK PROCESS MY ORDER. GREEN TAB
Score Board!

Triple Clicks Booster Club
HERE is where you view your commissions etc.
Booster Club membership CONFIRMED!
THANK YOU for your invaluable support of Triple Clicks! You're awesome!
View your progress for the Month Here. I check this page daily.
The Power Rank section lets you see how you're doing compared with other SFI Affiliates. You'll see your Overall Power Rank status, as well as your Class Rank (how you rank among Affiliates who joined SFI the same day you did) and your Country Rank(how you rank among affiliates in your country).

In the last section, you can view your Sponsor Rating for the month, if applicable (learn more about Sponsor Ratings here).
Movers!

I check my Movers Daily. Welcoming new CSA members with sending them E Cards. I keep up to date with my DD Leaders.
https://dollarwiseblog.com/sfi-welcoming-new-psa-with-ecards/
https://dollarwiseblog.com/sfi-moverstab/
I am designing this new page on how to support your five With the big O.
Growth!
Where we're growing today










Top 10 growth countries today (over last hour)
Be sure to click all blue tabs. This is me Maree Wells.

Goals! I enter in the empty box.  Training Participating promoting daily. Then I click the Green Tab SUBMIT TO DAYS GOAL TASKS>
TIP: Enter your monthly goals on this tab before the 10th of each month to pick up 5 Bonus VP
My #1 Goal "Quit my full-time job & work from home"
I set this in 2013 and achieved within my first year.  Aim High Dream Big.
Forum! Be sure to click one of the posts and participate with the discussions.
SFI NEWS announcement ABOUT New Active Sponsor policy
news.sfimg.com/2017/04/06/new-45-day-roll-up-policy/
Posts by members of your team

Posts by persons that you follow (which may include SFI president Gery Carson, your Sponsor, Co-Sponsor, etc.)

Posts by affiliates from your country and/or region
To all my team be sure to introduce yourself with our TEAM Forum. 
https://www.sfimg.com/forum/threads?forum_id=1056
Here is my SFI Story.
https://www.sfimg.com/forum/thread?id=78243
https://www.sfimg.com/forum/thread?id=41137
https://www.sfimg.com/forum/thread?id=51942
https://www.sfimg.com/forum/thread?id=20366
If you've collected at least 1500 Versa Points, the Forum tab also includes a "Great Question!" submission form.  If you have a  "big picture" question about SFI, just click the "I Have A Great Question" button and submit your question. If chosen by the Forum Moderators, your question will be featured at the Forum and answered by some of SFI's smartest and highest-earning members!
To collect VersaPoints from this tab, visit the SFI Forum at least briefly (ideally by clicking on a post by one of your team members or up line leaders).
Click the Blue Tab Daily To ENTER>
$500.00  Join the quest to win this month's bounty (minimum $500)! Get your status on the Badge tab.  Click the blue writing. Locate the answer for Today's SFI Biz Quiz.
YOU can also join in the Surf Chat Bar discussions at DWSEarner.
Quite often members log in and support each other with listing the answer here.
CLICK the Alerts Tab and claim your FREE Entry at the bottom of the page.
 

TIPS!

When you are done, check if all these tabs are green, except Games and PB tab – you need to spend T Credits to get those extra points.
  If you already have a business selling goods on the Internet, you'll want to learn about our E-Commerce Affiliate (ECA) program HERE:
http://www.tripleclicks.com/11189449/ECA
  How to avoid hacking and fishing emails. Always log in from this link.
Log into SFI and YOU will see all the updates.  Example.
GOOD NEWS: You are currently eligible to participate in tomorrow's Guaranteed Win Auctions! With as little as one bid, you're guaranteed to win a new CSA (Co-Sponsored Affiliate)! Auctions will be held at 4am, 11am, and 8pm CT. For more information, click HERE. (Click)
---
Upcoming Events   VIEW Here. (Click) This tells you when it is a members birthday ETC.
Tue, April 04
Larry McCullough's Birthday ( Your PSA )(Click Name to send E Card.)
CLICK the Blue Arrow in circle to View Leader board..
  If the Blurp is flashing Yellow Click and reply to all messages.

Make certain that you're personally contributing a steady supply of sign-ups (through your own advertising and/or with the help of S-Builder Co-op or a Builder Bundle unit).  If you're not feeding into the system, don't expect those above you to feed you!  
  As a team leader I lead my Example. Purchasing both packages Monthly.

CONGRATULATIONS, Maree, on achieving 1000 or more points in one of your ten Prime Games today!  For this achievement, you just earned:
* A bonus entry in tomorrow's Daily Crown
* 1234 Prize Points for the GM Poker Leaderboard
* A "Grandmaster" badge (or badge upgrade)
CONGRATULATIONS, Maree, you posted one of the top 10 longest streaks for March 31, 2017!  Besides grabbing Top 10 bragging rights for March 31, 2017, you also earned (for the day):
* 10 MRP (Member Rewards Points) and 2 VersaPoints
* 4 Poll Points
* A Gold Streak badge (or badge upgrade) for your TripleClicks homepage
  Register to receive my Free Boot camp training News Letters.

http://www.trafficwave.net/lcp/sfipays/sfipays
http://www.trafficwave.net/lcp/sfipays/dwsearner
This way you will not miss out on the training articles or my important updates.
It's time to move past the hype and nonsense about getting rich overnight.
Let's plug you in to our team and show you how to CREATE a 5 Figure Income Online.  Using Maree Designs on auto pilot to blast your favorite Triple click products and ECA Store listings.
    Kick Start Your SFI Promoting Today.

An Hour Per Day Can Generate $$$.
Unique! 

Use your MRP Points or T Credits to purchase.
• Buy this item with 4,978 MRP or 134 TCredits.
• TC Members earn 146 VP And 5 MRP with each purchase.
Click add to Cart. Click Continue to Check out You will see the order form.
Enter your Area code email etc.
Check all empty boxes have the details entered click Continue
Tick Payment box you wish to use.
TRIPLE CLICKS MEMBER REWARDS POINTS TRIPLE CLICKS T CREDITS
Wait to verify box to appear then tick. Example I used T Credits.
It will read Your cart totals may have changed.
Please verify the new totals Scroll down to the bottom of the page and click
I have reviewed and agree to the Triple Clicks Terms & Conditions. Click the box at the right Place MY Order. Keep an eye out for my Email with instructions on how to redeem your FREE Bonus SFI SUCCESS E Book.
So many sites fly by night, swooping in with promises of wealth and fortunes, grabbing all your money, never to be heard from again. SFI is the original work from home program.
My U Tube Video Library is NOW Live..
https://www.youtube.com/user/Dollarwise1
Be sure to subscribe FREE so you get notification when I list a new Video.
My Favorite SFI Quote.
Folks, we can't give away money (or co-op units or PSAs, etc. which cost lots of money) without the recipient EARNING that money by producing revenue. We would be completely bankrupt and out of business within months if we were just giving money away to anyone who signed up!
Indeed, sign-ups would likely explode to tens of thousands of people a day for everyone and their brother joining just to grab some free money. Do you not understand how COMPLETELY UNFEASIBLE that would be?
A Signing Bonus is just what it says…a BONUS. And no one is stopping you from earning as much of it as you want, as quickly as you want.
If you want to quickly earn your entire Signing Bonus right now, then get busy and make some sales (that's why you're an affiliate)!
YOU control when you earn your Signing Bonus. Please stop being so negative and underestimating what you can do!
Success comes before work ONLY in the dictionary. There is no shortcut to success.
Face Book For SFI training and brainstorming.
My Maree Designs Co-op Page. In to win Fab Prize Giveaways.
SFI BANNERS.. View this thread for links.
https://www.sfimg.com/forum/thread?post_id=888169
Log into SFI above. Click Marketing > Marketing Aids.
From Below Image u can get the URL or banner image

How I find my Answers at SFI.
Always check the SFIM Chat Daily.

View Weekly and Monthly SFI Tasks.
Example of Forum Post.. CHECK DAILY.
Morning all from New Zealand.
Did you see the Email From SFI! What's New At Triple Clicks.
If not go and tidy up your inbox NOW..
Send all unwanted emails to your spam folder so you never miss another SFI Update.
They supply you with all the training required.
SO make the first task of the day to check all emails sent from SFI.
Ready to start your SFI Journey.
Let SFI, in their series of welcome emails, walk you through the getting started process.
New to SFI and Online Marketing.
Be aware that you need to manage your email account very carefully.
Not all emails you receive are from who they say.
I never enter SFI Via any Email I receive.
Avoiding fishing emails.
I never open emails I do not know, I send them to my spam folder.
To get started daily, simply log in at the SFI Affiliate Center (www.sfimg.com)
and start working on the personalized To-Do List located on your SFI homepage.
Remember it takes time to build a successful on line business.