Daily Participation with the Forum at SFI is the key.
Read, learn, participate.
My Private SFI Team Forum. Add your comments and check in often.
https://www.sfimg.com/forum/threads?forum_id=1056
Start with introducing yourself to our team.
https://www.sfimg.com/forum/thread?id=44710
Gery's Stream Post.! You asked for it, you got it! We've just added over 800 emojis to SFIM (SFI Chat) so you can communicate even better with your team members…with even more improvements on the way! To access emojis, just click the smiley face icon found to the right of where you type text. Enjoy!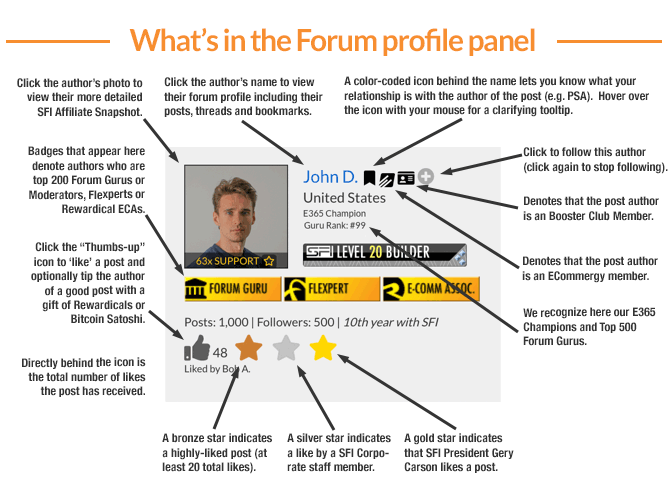 NEW POSTS & THREADS
One of my posts I shared.
I get very excited when my team achieve E365 Champion.
They stuck to the plan and reaped the rewards One Year Down The Track.
A lot of my team do not know about this, until I inform them.
Those who joined SFI the same day you did, will be challenging you for the title of E365 Champion at the end of the year.
If between now and then you accumulate the most VP in your class, you'll be named the E365 Champion for the class.
Each day SFI will be drawing 1000 winners. Every day, you'll have a chance to win a share of over $3000 in cash and prizes!
For complete details on the Daily Drawing, including prize information and limits,
see:
https://www.sfimg.com/E365?tab=info_and_rules
Gold Team Leader Shares Stream Post she sends.
Morning all.
I thought I would share the stream post I just shared with all my team.
Feel Free To Duplicate sharing with all your team.
Each New Month. Everything winds back to O.
Most important check all emails you will receive Via SFI.
Complete all tasks SFI Set for you to achieve Growth.
Check your alerts. Rate your sponsors, Set your goals 15 VP points.
If New check email for the link to transfer last months VP to this Month.
View https://www.sfimg.com/LaunchPad
Set up your Auto Renewal Subscription.
https://www.tripleclicks.com/16847831/tcsearch/category:436

How to save the icons to use. Right click your mouse on the image.
Click Save image as. A page will open select the folder you wish to save the icon to.
Then click save. REMEMBER which folder you have saved it to.
Reply to thread.
Huge Thanks Maree,
Wow! Not only are you resilient (earthquakes, floods, etc.), but you are
a truly generous person:)
What a friend!
And yes, I will be sharing your gems with my team too!
ANOTHER
The key. If all our Team Achieve Bronze. Huge Spill Over will occur.
Concentrate of supporting and training two to begin with.
One of your team achieve Bronze YOU achieve Silver.
Two of your Team Achieve Silver you achieve Gold.
Very Simple Plan to Put into Practice. Instead of wasting dollars here there and everywhere.
Invest at SFI instead. Proven and Paying.
What is the greatest way to making money with SFI & Triple Clicks.
My Reply.
Personally spreading the word everywhere.
I let everyone know via social media how much I enjoy SFI.
When you show confidence and support a product, showing you have purchased numerous different items.
I do reviews via my word press blog about my latest purchases from ECA Stores.
I always welcome new members and show them the value that SFI is the original work from home program.
I also have a SFI facebook group where I encourage all my team to also write reviews and their experiences.
When I see a new member showing the incentive with logging in daily I support them with getting their business started.
I reassign the 5 required PSA so the new member can achieve Bronze and work their way up the leadership ladder.
I am promoting everywhere my SFI link. As it shows my real progress. No hype like other promotions.
I work from a daily planner, so I am organized with what I am doing.


A Post I replied to over two years ago.
I'm getting hits to the NMP> Don't Know how or why?
See how I do not mention GDI as we are not allowed to mention outside links.
When replying at the forum you must only add links that are SFI associated.

Hi Ben.
Why are you getting hits to links.
Because your Website I designed for you is working in the back ground on auto Pilot.
People are viewing it and clicking your Triple click links I added.
I added this to your website. Changing my SFI id to yours.
The key remember is to work from your SFI training website I designed daily.
So pleased you are receiving hits.
Are you using the Sales generating leads program I added.
If so you will be getting hits at these sites to your SFI promoting.
SFI. THIS IS VERY VERY IMPORTANT! READ CAREFULLY PLEASE! Fast Track Bonus.
www.tripleclicks.com/11189449/detail.php?item=381607
Available ONLY for your first 10 days as a SFI Member!
(This is what members received with the NMP Package in 2015)
The New Member Pack comes loaded with EVERYTHING you need to get your Triple Clicks membership off to a powerful start:
* 50 mighty TCredits
* 200 Member Rewards Points
* 10 Eager Zebra Express "tokens"
* PLUS…A FREE BONUS: 30 free entries in the Triple Clicks Daily Crown drawing
Everyone you can copy this message, remember to change my SFI id to yours. Send it to all your new PSA as you receive emails from SFI informing you of new sign ups.