What is it?  Each Triple Clicks T Card is a standard plastic card!
redeemable for $12 in TCredits and MRP (Member Rewards Points) at Triple Clicks.
As an SFI affiliate, you may Purchase Gift Cards for just $.99 a piece and distribute them to friends, family members, and to the public.
Think of them as free samples–one of the best and most proven methods for gaining new customers in marketing history!
Each card comes with a unique, non-duplicatable Redemption Code printed on a .5 x 1.75″ label.
Each Redemption Code is permanently assigned to your SFI ID number in our database–
So no matter when the card is redeemed, you'll be the beneficiary.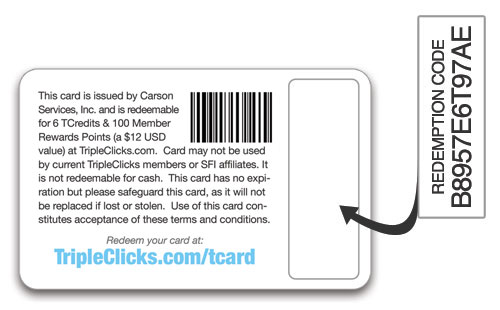 Once you've applied your labels, all you have to do is distribute the cards to your prospects.  It's that easy!
The lucky recipients of your cards will go to the URL printed on the card and enter the Redemption Code.
They'll then complete a quick, simple TripleClicks member registration.
You, of course, will be recorded as their Referrer and they'll become your PRMs (Personally Referred TripleClicks Member).
That's it!  He or she is now officially a TripleClicks Member and the six TCredits and 100 MRP (Member Rewards Points)
That the card entitles them to are available for his/her IMMEDIATE use!
NOTE: SFI Affiliates may hand out only ONE TripleClicks TCard to each prospective
TC Member. Handing out TC TCards to existing TC members  (including fellow SFI Affiliates) is prohibited.
T Cards are also available in digital form.
https://www.tripleclicks.com/detail.php?item=173941
Just select the Digital Cards option when ordering your cards.
Instead of receiving physical, plastic cards with your purchase.
You'll get access to your unique Redemption codes directly at your TC Card Tracker.
You can then copy and email these codes to fulfill requests from interested prospective members.
Each recipient can redeem their card at triple clicks by typing in their unique code and registering as a TripleClicks member.
THE 1-a-DAY PLAN
Triple Clicks T Cards come in packs of 30.
Why 30?  Because 30 is a one-month supply for the following plan that we recommend you employ…
The plan is very inexpensive (less than a dollar a day), ULTRA SIMPLE, and anyone can do it:
Distribute ONE T Card a day to a good prospect.  That's it!
If you'll do this, you'll soon be generating new PRMs on a regular basis–quite possibly several a week.
Now, how many of your new PRMs–once they've experienced TripleClicks for FREE–
Members might like to explore it even further by buying more TCredits or buying products or becoming an ECA of yours?
At this juncture, we of course cannot predict this, but we think the number (and the commissions you can earn) will be quite good.
Here's an example:
Let's assume that you're an EA (Executive Affiliate) with SFI.
Of the 30 cards you've handed out this month, let's say 10 get a good taste of the price bender auctions and decide to order some more TCredits.
If those 10 new members buy just 100 TCredits each (2 packs of 50 each), you'll earn $83.20 in Direct Commissions plus a whopping 13,880 VersaPoints!
https://www.tripleclicks.com/detail.php?item=58457
That's 13,880 shares of the TripleClicks Executive Pool for you, too, of course.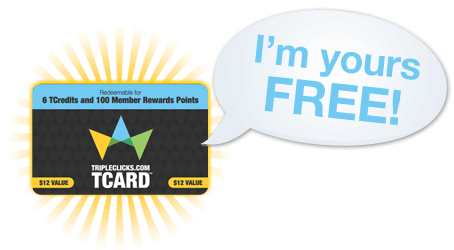 The way you would distribute your TCards would be by including text on your blog or website.
Describing your qualifications for receiving a card.
For example, you could offer to mail one to those who sign up for your newsletter.
Providing you with their physical mailing address.
Or who send you a postage-paid self-addressed envelope (for you to mail the TCard to).
Or perhaps you want to offer one with the purchase of a physical product you sell.
(you could just drop the TCard in the package when you ship it to the buyer).Important note: Distributing TCards online to unknown persons is risky. 
This is because it's difficult to know if people are who they say their are online. 
Thus, someone could get a card out of you posing to be one person.
Then another card from you by posing to be another person, and another and another. 
A determined person could potentially rob you of dozens of cards! 
So when you set your qualifications for receiving a card from your blog or website,
Make sure you keep in mind that, sadly, there are dishonest people out there who might like to take advantage of your generosity.
2. Tap into the immense win/win/win power of co-oping with other businesses and organizations.  
Here's an example; Let's say your friend runs a bakery.  Here's the co-op you agree to:
You supply him TCards at no cost to him.
He puts up a sign in his bakery offering his customers a free TCard with the purchase of, say, a dozen donuts.
What an awesome win/win/win:
Your baker friend sells more donuts and builds invaluable customer satisfaction/loyalty.
The customer gets a free $12 TCard.
And you gain a PRM and new potential lifetime income stream!Here are some more examples of how to do TCard co-ops:

– Contact restaurant owners about offering a free TCard with every dessert order.

– Contact gas station owners about offering a free TCard for customers who buy $20 or more in gas.

– Your local high school could offer TCards to parents who buy season tickets for the basketball team.

– Go around neighborhoods and stop at the garage sales.

– The next time someone comes to you with a fundraiser, contribute to the fundraiser (buy something from them)…
Then ask if they'd be interested in offering one of your TCards to their customers who buy or buy X amount of their products.
Do you sell Avon or Tupperware or some other product on the side (or know someone who does)? 
Our T Cards are perfect for boosting sales by offering them as a bonus for any purchase or for some minimum purchase amount.
Redeem your Gift Card Codes.
https://www.sfimg.com/MyAccount/MyReports/GCtracking
This is the link to redeem the codes when you receive emails requesting the Gift Cards.  Click the link to begin.
You will see a list of codes to redeem listed at the left. Click an individual code.
Copy the first code and enter it beside the email you have just entered and saved at your computer. Before continuing.
Next follow the instructions below to redeem your 10 VP points.
Click the Code to open and claim.
A box will open.
Enter name and email address you will be sending code to.
Distribution Date
Required Field
Recipient Name (if known)
Recipient E-Mail (if known)
Recipient Relationship Required Field
Distribution Method
Required Field  Click this and a drop down box will appear. Click online promotion.
Notes. Click the grey box here. Saying save distribution details.
Example of a Redemption Code: 8W4PQIUYWWI3
Next go and send an email to this new customer with their individual code added.
I use the same letter. BUT remember to change the individual code for each new request.
Here is an example of the post I send. 
REMEMBER to change my links to yours.
Heading. Free $12 Gift card requested to get you started. Working and Earning from home.
Thank you for entering your email and requesting more info on how to work from home Via the Internet.
You need to be consistent to get anywhere in internet marketing.
Not just promote for a day then giving up saying internet marketing is a scam.
If instant riches were that easy on the internet, everybody would be quitting their regular jobs!
Gift card. How to redeem..
First)…….. log into
http://www.TripleClicks.com/giftcard
Enter this code        9YLZGII93SR3
Next activate SFI. Use the same log in info as for Triple clicks.
Cheers Maree New Zealand.
Be sure to register for my FREE boot camp Training Series.
http://www.trafficwave.net/lcp/sfipays/sfipays
Team support is the key to success.
Cheers Maree
SFI Team Leader Guru.
View my Training article HERE!
http://www.dollarwise.ws/SFIGiftCards
I use Traffic Wave to design my SFI Gift Card Campaign.
I promote this link at all the down line builder sites you see listed at DWSEarner.
Capturing email addresses to redeem the Codes. Building a client list at the same time.
Weekly I simply log into traffic wave and send any updated SFI news with New Triple Click Stores I have made purchases from.
View it here.
http://www.trafficwave.net/lcp/sfipays/sfigiftcards
Not a member sign up here. 
Keep an eye out for the welcome email with instructions on how to design your SFI Gift Card Campaign.
http://www.trafficwave.net/members/sfipays/affiliate.html
GERY SAYS…
Gery Carson, SFI President and Founder says this about the new T Cards…
"In over 25 years as a marketer, I believe our new T Cards may be THE best marketing tool we've ever created. I say this because our new T Cards are, in my opinion, 'awkwardness-free.'  That is, MANY people are uncomfortable pitching products and especially business opportunities to others.  And that's understandable; no one wants to become someone that people avoid. But with our new TCards, there truly are no strings attached, no 'gotchas,' nothing to feel awkward about whatsoever.  I personally will be freely handing out these cards to friends and family and people I meet at every opportunity because I know I'm giving them something of true value and with no obligation. And I can think of no better or easier way to introduce them to Triple Clicks."
TRACKING & NEW BONUS VP
A marketing tool can't truly be great, of course, unless you can track how effective it is for you.  For this purpose, we've created a brand new tracking report for you at:
Once you've purchased TCards, this new report will automatically populate with a list of all the Redemption Codes you've been assigned.  Each time you redeem a card, you will submit the details (who you gave the card to, the method of distribution, etc.).  Each time you submit the distribution details for a card, you immediately earn 10 Bonus (Action) VP.  Yes, that's 10 Bonus VP for every card you distribute and submit at your tracker report–so 300 Bonus VP for every pack of 30 cards (in addition to the standard 100 VP that you received when you purchased the cards)! NOTE: A maximum of 300 VP per month may be applied towards Action.
By the way, we'll of course be sharing with you, our affiliates, key stats from submissions.  You'll know exactly, for example, what distribution methods are working best based on the actual results of thousands of SFI affiliates around the world!
This new report is also where you can monitor how the cards you've distributed are doing.  For any card that's been redeemed, with just one click you can get the date of member registration, their name, redemption details on the TCredits, and more!
NEW LEADER BOARD, BADGES, & PRIZES TOO
There's another great reason to use the new T Card Tracker report.
Each card you submit builds your "DistribuSTAR" status…in the following three ways.
1. For starters, you'll earn a cool Distribu STAR badge for your SFI homepage as soon as you've submitted 60 cards.  Then really show your team how to do it by moving up to a badge for 90, 150, 300, 600, 900…all the way to 1500 distributed cards!  Remember, lead by example to generate duplication in your group!

2. We've also introduced a new DistribuSTAR leaderboard for our top card distributors.   Check it out Here.
https://www.sfimg.com/Leaders/GiftCards
Note: The default listing is for "All Time," but you can also select a filter to see the movers and shakers for:
This Month
Last Month
Today
Yesterday
Last 10 days
Last 30 days
Last 90 days
Last 180 days
My Team
Tip for Team Leaders: You can use these filters in conjunction with your contests and/or to just easily monitor who the Distribu STARS are in your group.
3. We've also created a brand new daily drawing for our Distribu STARS.  Win Versa Points, T Credits, MRP, and free packs of additional T Cards too.
Do the 1-a-Day Plan and you'll have an entry in the drawing EVERY day!  Or gain more entries each day by submitting multiple cards.  The more cards you submit at the TCard Tracker, the more entries you receive (one entry per card per day, with no limit on entries)!  Check it out at:
http://www.sfimg.com/TCards/Drawing