The Internet lifestyle is a great way to generate a real income on-line daily.
The key is to select the right business to work with.
Avoiding all the scams and false hype on line.
Note: If you haven't done so already,  sign up today.
http://www.joinmySFIteam.com/11189449.1046

START Here Reviewing as I update it often.
https://dollarwiseblog.com/sfinewbiessetup/
https://news.sfimg.com/2017/07/11/presenting-class-cash/
YOUR Goal is to Achieve Bronze Team Leader.
Then set up your Leadership Page. More Details here.
https://dollarwiseblog.com/sfileadership
This is my training porthole for my SFI Team and friends.
http://www.abc4income.com
When it comes to scams, just ask yourself a couple of very simple questions,
1) Where does the money come from and
2) What is the product. If those two questions can not be answered, stay well away.
Thank you for taking the first step.
Training pages For MY SFI Team.
http://www.dwsearner.ws/SFIPays
http://www.kiwitalk.ws/DailyToDo
YOU will find great SFI Training videos at ABC4Income.

ABC 4 Affiliate Marketing. How to start.Gmail etc.
Do you know how to Filter your mail in GMail?
Here is a GMail Help Article on Filtering
https://support.google.com/mail/answer/6579?hl=en
For a complete list of the benefits and perks you're now qualified for, see:
https://www.sfimg.com/Reference/ComparisonChart
ALSO, be sure to let us know if you would like to receive Second Home CSAs.
Just go to the following page at the SFI Affiliate Center, scroll to the bottom of the index page, and opt in:
https://www.sfimg.com/MyAccount/
The first thing I did was to set up my Welcome Messages.
Find under the Communications Tab at your Accounts Page.
An hour per day will send money your way.
I invest hundreds monthly paying for the domain provider for Maree Designs DWSEarner and ABC4Income. To support all my team members in generating a real income online.  Members that support me with our Maree Designs Co-op Receive spill over with all our down line builder programs you see listed at Maree Designs.
Did you miss out on the most recent Spin & Win contest, held between August 31st and September 2nd 2015?  Affiliates who spotted the Spin & Win notice–announced in the August 31 SFI Newsletter (e-mailed to all affiliates)–and who entered the free contest grabbed 28,500 free Action VP!  Readers are leaders!
Here's how Spin & Win works:
At least once every month–and up to three times every month–we include a blurb in our newsletters announcing that a new Spin & Win contest is underway.  NOTE: There is no mention of Spin & Win in the subject line. You must read each newsletter you receive in its entirety to find the new Spin & Win contest blurb.
When you find it, get to the Web page URL referenced as soon as you can (the entry period will typically be 48 to 72 hours, but could be less).
When you arrive at the Spin & Win Web page, answer one or more of the simple questions there about SFI or TripleClicks.  Answer correctly and you will get one free spin of the VP wheel–with a chance to win up to 1,000 VersaPoints (everyone is guaranteed to win at least 5 VP per spin).  There is NO obligation and NO purchase is necessary.  Just enter the correct answers, spin the wheel, and you'll be a instant winner…with up to 1,000 VersaPoints added immediately to your account–just for reading your SFI e-mails!
WHO ARE WE?  We are a group of SFI Individuals building our team with using My Dollar Wise Network. Working from home program.
• Since 1998, SFI has paid out MILLIONS of dollars in commissions to affiliates in over 200 countries.
• SFI's parent company, Carson Services, Inc., is now in its 30th year of business.
WHAT IS SFI'S SECRET?
We attribute it largely to the unique makeup of our affiliate program—a hybrid sales and marketing system exquisitely powered by the Internet. It probably also has a lot to do with the simple fact that SFI WORKS for so many thousands of people.
Start Daily at SFI.
https://dollarwiseblog.com/sfidailytodo/
All I can do is show you how I participate daily. The next step is up to each individual to put the plan into PLAY… This will determine your cash and down line building.
E365 Entrepreneur Challenge for new members.
WHAT IS IT?
Entrepreneur365 (E365) is a fun and exciting SFI contest that gives you great goals to shoot for during your first year in SFI. The objective is to score the most Versa Points (VP) in your class during this 365-day period.
There are six qualifications to get entered into the E365 contest:
1. Verify your email address
2. White list the email addresses of SFI and up line members
3. Complete your Affiliate Profile Basics
4. Upload your account photo
5. Send your commitment letter to your sponsor
6. Collect a minimum of 1500 VP
Earning Versa Points is how you generate an income.
What are Versa Points?  
Versa Points (VP) are points that are awarded to you for doing various actions that support the growth and success of your SFI business.  When you joined SFI, for example, you had the opportunity to earn hundreds of VP for confirming your email address, for uploading your account photo, etc.  And there are dozens of other actions that you can do monthly to earn thousands of Versa Points (see your TO DO list for a complete list of available actions that earn you VP).
Why Versa Points are important:
1. Versa Points are used as the primary method for determining your rank in SFI.  The more VP you collect, the higher your rank in SFI can go and the more benefits become available to you.  To review the benefits of each rank, see our Benefits Chart.
2. The number of Versa Points you collect each month determines how big your monthly profit share is; you earn one share for every VP you collect (minimum 1500 VP).
3. Versa Points unlock the most powerful component of our compensation plan, Leveraged Income.
4. If you're still in your first year in SFI, Versa Points are also important because collecting the most VP is the objective of the E365 contest (a contest for all SFI affiliates in which you can share in over a million dollars in cash and prizes).
5. Versa Points are the key to our "Power Rank" program. Power Rank allows you to see how you stack up amongst your fellow SFI'ers—in your class, in your country, and overall, too.  The more points you collect, the higher your Power Rank can go and the more prestigious your Power Rank badge will be.  Check out the current Power Rank Leader board and see where YOU are positioned now.
TIP: Your current Versa Points totals (for today, this month, last month, and all-time) are available 24 hours a day on your Scoreboard tab.
Weekly Actions at SFI..
What I suggest is to lock into the big O 100%. This is what I did.
I kept 5 DD Leaders reassigning the rest of my team to these members.  Now 100% spill over occurs from all my promotions.
1. Become an Executive Affiliate (EA), and remain EA each month
3. Teach these 5 affiliates to do these same three steps.
Cycle begins at Sunday, so your deadline is Saturday night to check your SFI Tracking Results..
You can send your weekly emails to your down line, CSAs, or to all people from your Geneaology*. Find these options on your To-Do list.
Post on a stream tab is like the Facebook status to your team members. You get 1VP for every post, 3 times a week.
 MONTHLY ACTIONS
You can find them at your To-Do list:
Quote of the Day
"Plant the seed of desire in your mind and it forms a nucleus with power to attract to itself everything needed for its fulfillment."
-Robert Collier
Be sure you are subscribed to news.
http://www.sfimg.com  (just click the "Follow" link found in the right sidebar). Once subscribed, you'll automatically receive an email each time news is posted so you'll never miss an important SFI announcement.
View some of SFI Members Testimionals.
Skeptical of online business opportunities? Must Read SFI Review.
https://www.sfi4.com/11189449/SB
WHY SFI!  I decided on SFI because I like the fact you can view where their offices are located.  They pay Via PayPal or you can be paid Via Payoneer Master Card.
   Yes March The 4th 2017 a day to remember.
I have set my  Goals To Achieve Diamond Team Leader within a year..
I replaced my Auto Renewal Monthly Membership from 125 T Credits to
Imagine my growth in a years time. As long as I keep my Auto Renewal Active. I will have grown my down line with over 240 combined PSA and CSA Members. Without any promoting. I will receive these members monthly.
My Goal is to triple this with promoting and team building daily.
Be sure to set up your SFI Leadership Board.
   Triple Click Products…
TC now features 93,427 products and services to buy and sell, with hundreds more being added weekly.  For new products, see:
https://www.tripleclicks.com/tcsearch/sort:add_date_desc
For deals on more than 1,000 products marked down as much as 95%, see:
https://www.tripleclicks.com/tcsearch/sale:Y/
And don't forget our big, money-saving Deal of the Day, featured each day on the homepage both at TC and the SFI Affiliate Center.
Refer TC members and earn 45% CV commissions on sales you generate!
https://www.sfimg.com/LaunchPad/Lesson?id=48
THE PLAN…revised and rechristened!
   Personally as a Leader you need to lead by example.
I always test then purchase what ever I recommend .
We also wanted you to see Builder Bundles "in action!"  So we've updated The Plan with new information that shows how much you can earn and how big your group can become if  everyone has a monthly Builder Bundle subscription.
View My SFI Daily Planner

Order your Builder Bundle NOW at:
SFI (Strong Future International) Marketing Group was launched in 1998. Starting with just one product, sold only in the United States, SFI has now grown to more than 90,000 products and services (and growing daily) sold in more than 190 countries around the world.
SFI was created to allow anyone with a computer and Internet access the opportunity to tap into the worldwide e-commerce revolution. Anyone of legal age in his or her country can become an SFI affiliate for free by filling out an online registration form. There is no obligation or purchase requirements of any kind.
Once registered, affiliates are provided with professional Websites for marketing SFI's products on the Internet. SFI also provides all necessary sale support services, such as customer service, payment processing, and product shipment – all at no cost to the affiliate. For each sale generated, SFI pays the referring affiliate a commission. Additional commissions can be earned by building and leading affiliate groups.
Stability & Longevity
The mark of a successful company can be seen in its track record. SFI is now in its 19th year, with millions of dollars in annual sales and millions paid in commissions to thousands of affiliates around the world. SFI's parent company, Carson Services, Inc., is now in its 32nd year of business and is registered with Dun and Bradstreet. SFI affiliates operate with the peace of mind brought about by associating with a proven, debt-free organization with a long, successful history.
Company Leadership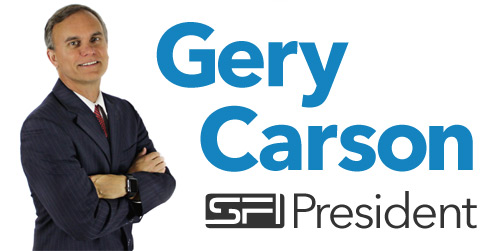 SFI President and CEO, and founder of SFI, is Gery Carson. From 1985 to 1998, Gery was a top marketer and record-breaking distributor for several direct sales companies and a successful business magazine publisher. Known for his innovation, Gery has been a pioneering force in the direct mail and Internet marketing industries for more than two decades. His extraordinary achievements as an entrepreneur have been spotlighted in "Money Maker's Monthly," "Up line," "Opportunity World Magazine," and in numerous books and videos.
National recognition has also included being named to 1992's Outstanding Young Men of America list and 1997's Who's Who in the Media and Communications.
In 1998, Gery set out to "put a dent in the universe" by creating SFI, a ground-breaking program that would utilize the Internet to empower and enrich the lives of millions of people around the world. Today, with 15,275 new affiliates joining in the last week alone, SFI is one of the fastest growing companies of its kind in the world and is well on its way to achieving Gery's vision.
NO MATTER WHAT YOU DO, at least half of your affiliates will NOT become successful.
ALL WE CAN DO IS GIVE PEOPLE A TRACK TO RUN ON. WE CANNOT, HOWEVER, DRAG THEM ACROSS THE FINISH LINE!! They have to want it.
Did you know that one of the most popular things to do online today is play games?
It's a fact. A recent study found that 44 percent of the world's online population are gamers. And it is estimated that over one BILLION people worldwide play online games on a regular basis–with more than 100 million playing DAILY!
WOW!! Now that's a marketplace worth being a part of!  And as an SFI affiliate, you are automatically positioned to profit from online gaming–through our game division at Triple Clicks–better known as Eager Zebra.
Fill Instructions!  Have open in a second browser window for reference.
Set your goals monthly and for the first year work towards achieving that goal. 
"Gery Carson's Quote" Did you know that you usually have to fail, often multiple times, before you get to success? It was true for me and probably will be for you too. Persist until you win!
Personally if I had given up in my first six months at SFI I would of missed out on all my earnings I achieve now as a Gold Team Leader.

View my Chart. (Feb 24th 2017)
YOU will see I support my team reassigning PSA Members to their team.



Gen Feb 2017

April 2017 Big O
2014 Results
1 (PSAs)
164
5
178
2
2522
1836
75
3
950
3703
38
4
132
4374
Level 5

Each Level

8

Now has members

2641

4325
1 972
250
466
42
2

CSAs
599
675
139
TOTALS
4335
19292
458
Many people try to make SFI much more complicated than it really is.
Start with listening to these Video's before Continuing.
Find listed at my U Tube Channel.  Be sure to register FREE.
Tip of the Day! Review your Launch Pad Training!
https://www.sfimg.com/LaunchPad/
Read To Succeed.
I came across this in my research.
How to Start a New Website for $587.32
So many people get conned and spend the money to be totally disappointed never to hear from the supplier again.
My PET Hate is when I read this sort of promoting how to generate a six-figure Income with affiliate marketing.
Finally, you need a step-by-step blueprint.
That's why I spent over six to twelve months mapping out the techniques I personally use to generate a full time income working from home.
Promote SFI And Triple Clicks  at the down line builder sites listed at Maree Designs.
Team Leaders.  REMEMBER your team will determine your earnings.
Treat them right and they will support and follow you into other programs to use for team building SFI.
NOTE: Instead of flicking here there and every where.
Before you know it you are spending hundreds of dollars Monthly.
Thousands Yearly with no results.
Concentrate on teaming Maree Designs with SFI.
Click at the left down line builder.
THESE are the only sites I use to promote SFI and Triple Clicks on a daily basis.
I cancelled a lot of upgrades deciding instead to purchase T Credits.
I pool all the cash from our team purchases.
Blasting promoting sharing spill over with all My SFI Team.
https://www.tripleclicks.com/detail.php?item=235841
Profit Sharing
With all those internet sales going on at Triple Clicks wouldn't it be incredible if you could share in all of the profits? And not just from your own sales and the sales of people you've introduced to SFI, but from the over one million other SFI affiliates, too? Well, hold on to your hat, because, as an SFI affiliate, you get that too! Yes, seriously!
SFI-powered Triple Clicks –YOUR store–is one of the fastest-growing e-commerce Websites in the world. TripleClicks currently features 90,960 products—from over 110 countries worldwide—and we're adding hundreds of new products weekly. Every month, we put a whopping 40% of the Commission Volume of EVERY order at Triple Clicks into a revenue pool for our affiliates to share in!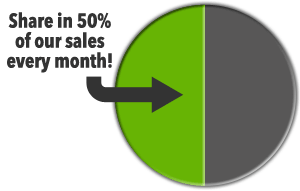 To earn shares of the pool, you need only to score a minimum of 1500 "Versa Points" monthly. What's a Versa Point? Versa Points are something we award to you for doing various actions throughout the month. The more points you score each month, the more you can earn from the pool.  To be exact, you earn one share of the pool for each Versa Point you score. It's that's simple!
2,244
Enrollments in last 24 hours, from 118 countries
38,824

total enrollments month to date


79,357

total enrollments (last 30 days)
Where we're growing today










Top 10 growth countries today Thurs 16th Feb (over last hour)
Newbie Guides to setting up SFI.
Above Click the Support tab then Click the Get Started Tab. Read the review before continuing.
Member Listings
Our Member Listing Program allows you to sell your unwanted and unneeded stuff at Triple Clicks. Clean out your closets, attic, and garage and turn your clutter into easy cash.
DWSEarner was launched in 2015.
To support all Marees SFI team and Friends.
If you only had enough cash for One Program to Participate with.
I would strongly suggest to make SFI your First Priority.
I launched DWSEarner to give all my team A One Stop Work Station.
Rewarding them for participation.
In to win advertising upgrades DWSEarner Cash to be spent to blast SFI Promoting.
Supplying loads of entertainment.
Life Time Friendships. Be sure to participate with the surf chat daily.
SFI is all about Transfer Buying…. For the system to work for you?
YOU need to start shopping and selling.
NOT a member log into DWSEarner.
Click above Affiliate then down line builder.
Sign up Via one of our random SFI team members.
You Decide Your Level Of Earnings.
The more participation the higher your rewards. Paying System 12 Levels Deep.
YOU earn money whenever you refer a new customer that sets up an

Auto-Delivery 

at SFI.
Makes purchases from your ECA Triple Click Store.
Share in winnings with New members you introduce to Wave 3. Setting challenges.
Win cash and prizes daily with the Gaming Opportunities.
Paid for shopping and selling, supporting other ECA Stores.
By learning to create your own lead system by following The SFI Plan.
You can then co-op that system with those you refer into SFI for maximum leverage. 
Yes, support is critical, but lead generation is the life line of your SFI business.
If you could invest in the buying power of a huge team.
Benefiting from all the work they do and receiving rewards for the merchandise they purchase,  Would you be interested?
I thought so!  YOU could spend a fortune on line, joining other Gaming Sites etc.
This is why I love what SFI offer.
Small Fee for hours of entertainment and fun.  Life time friendships. Simply Just Great…
SFI is no "pie in the sky". This is the real McCoy!
———————————–
Any SFI member can earn by promoting my ECA Store.
Just change my SFI id to yours.
Bonus for all my Kiwi Down line.
In To Win!  Mystery parcels in the post Monthly Competition…
http://dollarwise.tripleclicks.com/11189449
I designed this package as my SFI Team Referral Booster.
https://www.tripleclicks.com/detail.php?item=235841
I reassign Random PSA Down line to My SFI Leaders that purchase.
Free Bonus!  Send in a support ticket at DWSEarner.
Requesting a Free upgrade at DWSEarner + Maree Designs.
———————————–
Eight payment options
To make placing orders as easy as possible, you may use any of the following eight payment methods on Booster Club-qualifying orders:
* Credit card or debit card (including TC Payoneer MasterCard)
* PayPal
* SFI Account funds
* TC Account funds
* TCurrency
* Money Order
* Cashiers Check
* Personal Check (United States only)
———————————–
EASY & AMPLE VERSA POINTS!
By simply shopping at the Spotlight Merchants sites
you can earn easy and ample VersaPoints, up to 500 VP monthly!
And it's so simple, too!
We'll verify your order with the seller and your VersaPoints will be awarded to your SFI affiliate account (usually within just one business day)!
But that's not all! As you know, as an SFI affiliate, TripleClicks Executive Pool shares are an important component of your compensation.
The higher the share value is, the larger your commissions can go.
The Spotlight Merchants program is designed to actively and aggressively boost share values. That is, a large portion of every Spotlight Merchant sale goes directly into the TripleClicks Executive Pool. And because much of this will go in "unencumbered," ALL shareholders can see higher share values. Remember: For each VersaPoint you earn, you get paid one share of the TripleClicks Executive Pool (minimum 1500 VP/month).
Example: You place a $50 order with a Spotlight Merchant.
For this, you immediately receive 300 VP.
A portion of the $50 you paid pays for your 300 VP of course. But a portion is also simply deposited into the pool for all qualified SFI affiliates to share in.
Now imagine thousands of SFI affiliates patronizing Spotlight Merchants each month.
Pool shares values could soon begin to grow rapidly!
Start browsing all Spotlight Merchants now at:
Featured on your TC tab!
Each week of the year, we'll be introducing a brand new featured TCD.
You'll find them on your TC tab at the Affiliate Center.  In fact, if you'll go to your TC Tab right now, you'll find the first one.
Check Out The ECA Stores! FREE worldwide shipping!
Earn 662 VP and $3.97 for each sale of this product!
---
EARN WITH T CDs!
TCDs aren't just for affiliates to purchase for themselves of course.  On the contrary, TCDs are designed primarily for earning commissions by selling to the public!
According to recent research, worldwide e-commerce sales topped $2 trillion in 2016, and double-digit growth is expected to continue through 2020, when sales will top $4 trillion!  Incredible!
In short, e-commerce is continuing to absolutely skyrocket.  And and as an SFI affiliate, YOU have the opportunity to share in the billions and billions of dollars in profits by selling products from your store (TripleClicks) and sharing in SFI's amazing 40% CV Profit Sharing program!
By the way, don't forget that whenever you make a retail sale (a sale to a non-affiliate), you not only earn a 45% CV Direct Commission but also all the Versa Points associated with that product.  Hence, by just selling a few TCDs each month, you can earn all the VP you need to qualify for your desired rank AND earn some handsome Direct Commissions, too.  All without any purchases by you required!
As you can see, each panel provides great at-a-glance information.  Plus, you can designate your favorite merchants by clicking on the heart icons to make repeat shopping trips even easier.
Clicking the blue "SHOP" button will open the merchant's website in a new window—ready for you to start shopping.
The "VP Gauge" icon gives you a general idea on the amount of VersaPoints available.  And we've color-coded them as follows:
Additionally, at the top of the directory, there's a handy category menu, plus time-saving filters and sorts.
---
The new game from Eager Zebra, ZACK JACK, is here! Zack jack is blackjack…with a kick! FREE daily prizes, FREE unlimited plays, and 14 new badges! Get all the details now at:
Here's a tip for Zack jack: For burning cards, you get WAY more bang for your buck by using Matches (instead of T Credits). Indeed, you get FIVE matches for just one T Credit. So a 5-1 value! To acquire Matches, simply click the green "Buy Matches" button before you start playing or from on the "Game Over" screen. It then takes just one more click to instantly buy Matches.

WHAM! It looks like we've got a BIG hit on our hands with the new Eager Zebra game Zack jack! In its first 24 hours, over 228,000 (nearly a quarter million) games have been played! See the Zack jack announcement at: